Born Cree: The Life of Peter Hawley of Sitting Horse Drum
Pete Hawley grew up on Rocky Boy's Reservation in Montana, during the 1920s. He recounts his life story and reflects on his life experiences, especially the importance of the drum in his return to his traditions. Plentiful archival photographs help create the context for Pete's life story.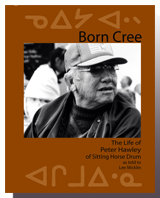 Perfect bound, soft cover
8 x 10, 88 pages 54 photos
Out of print.
Questions?
info@courtstreetpress.com